| Subscribe newsflash | Show all newsitems |

Congratulations to.....
Published 28/06/2010

Every week we receive references from all over the world. We will publish them this winter. Below the references we received the last 24hours.

June 26th it was hot and very nice weather with hard head winds. Weather for winners as every fancier would say. In Holland there were some NPO-races and in Belgium national Argenton.

In different areas the Verkerk pigeons did outstanding.

Jo and Florian Hendriks won the 1st NPO La Souterraine with almost 7 minutes ahead. From section 3 and 4 together it was also the fastest pigeon with the same lead. As a youngsters this yearling cock won several more top prizes.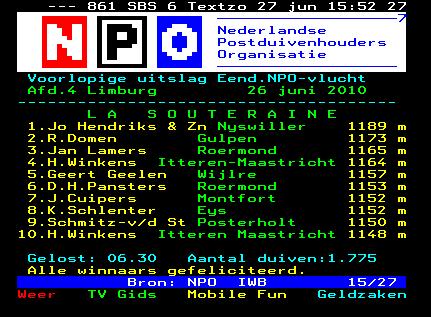 In Belgium, Sittner Premier UK (Bolton), Merksplas won the 1st Provincial Argenton (yearlings + old birds)

Yong Lin won the 4th NPO Tours. This hen is a top candidate for the national Ace pigeon WHZB one day long distance. She won this year so far:


1st -4.591 p (4th NPO – 9.061 p.)
5th -5.493 p (15th NPO – 10.660 p.)
7th -3.365 p (16th NPO – 7.259 p.)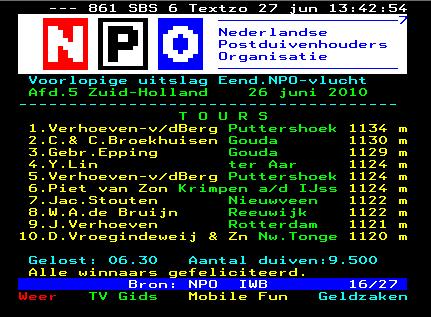 After an outstanding season 2009 with mainly Verkerk-pigeons, Chiel de Wit won the 9th NPO Tours in his section.